7 Best WordPress Caching Plugins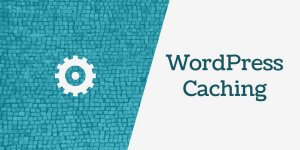 No one likes waiting for websites to load. And Usually the longer your visitors wait for the more likely they will leave and go to your competitor's website.
Caching helps when it comes to your websites page load times.  The process consists of temporarily storing your website's data/information so it can load faster for your visitors.
Obviously, it's important to clear the cache on your WordPress website. Fortunately, WordPress caching plugins make the process much easier. Take a look at the seven tools below that can help you with your page load times and caching issues.
1. WP Fastest Cache
Sites that load in five seconds (compared to some sites that load in 10-15 Seconds) see 70-80%% longer average sessions. When a visitor want's to engage with your content they want to do so as soon as possible.
However, when a visitor lands on your webpage, the server will create a new page with PHP and MySQL. This process takes up critical space and memory. When you have multiple visitors coming to your website at one time, it can seriously slow down the rendering process.
With WP Fastest Cache, it's no longer a problem. This plugin renders the page one time and stores it in the cache.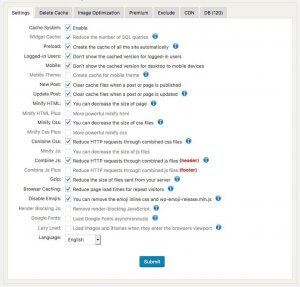 When someone visits your page, it will serve the cached version. And because Google uses website speed within its algorithm, it can help improve your search engine rankings aswell.
2. W3 Total Cache
Caching is a crucial part of optimizing your website speed. It significantly speeds up your page load times, while also decreasing the load on your server.
W3 Total Cache keeps your visitors satisfied by reducing page load times. When the plugin is fully configured, it can improve overall website performance by up to 10x.
This caching plugin for WordPress compresses the size of your HTML files. It also caches other page components, like Javascript files and database objects. It's compatible with all types of hosting.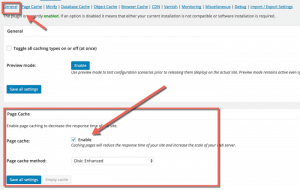 With W3 Total Cache, the rendering and compression will enhance the visitor experience, resulting in more conversions. Customer support is also available to answer your configuration questions or software issues.
3. Comet Cache
Without caching, your small business reflects poorly on your brand, and you miss the chance to delight customers and increase sales. So, don't drive visitors away when a plugin can easily assist you.
Comet Cache helps unburden servers. This WordPress caching plugin takes a real-time snapshot of your website, including pages and posts. You also can set an automatic expiration time for cache files.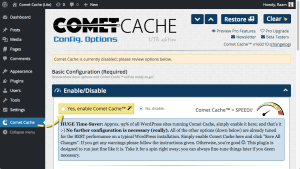 The pro version of the caching plugin includes additional features to improve your website performance.  You can clear your cache with a single click, auto-clear a list of custom URLs, and leverage domain sharing and multiple CDN hosts to allow browsers to download information simultaneously. Plus, you can preview these pro features in the free version.
4. Hummingbird
As a small business owner, you have multiple responsibilities, So, it's easy to overlook the importance of website optimization. Alex Landau, an engineer, on why you should make it a priority:
"Caching makes things faster. When you want to grab some data that is expensive to look up (in terms of time or other resources), you cache it so that next time you want to look up that same data, it's much less expensive."
Explore Hummingbird, a multi-purpose caching plugin that scans your WordPress website to find exactly what's slowing it down. You don't have to do any heavy lifting because the plugin is equipped with one-click fixes. Hummingbird also offers a caching suite to provide your visitors with a faster browsing experience.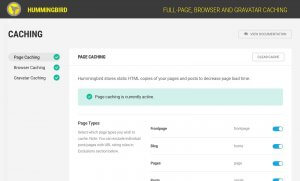 5. Cache Enabler
Research shows the vast majority of online shoppers who have trouble with website performance say they won't return to the site to buy again. So, speeding up your page speed just a few seconds can help your small business or eCommerce store retain visitors.
Cache Enabler helps improve your WordPress site's performance. It creates static HTML files and stores them for you. Therefore, when a visitor views your page, the plugin sends the static HTML. This process avoids the slow load time to generate the page. It minimizes the use of HTML and inline JavaScript to speed up web page delivery.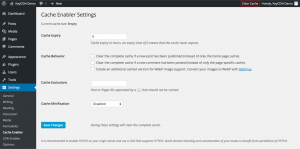 You also can view the cache size on your WordPress dashboard. It's advised that you don't use this plugin if your website uses a mobile theme or plugin that shows different layouts for desktop and mobile users.
Overall, Cache Enabler involves minimal setup for non-technical users. And you can install and configure it quickly.
6. Breeze
Breeze is a powerful WordPress caching plugin designed for non-technical users. Once installed, small business owners can see results with the recommended default settings. The plugin also provides file-level caching, database cleanup, CDN integration, and minification.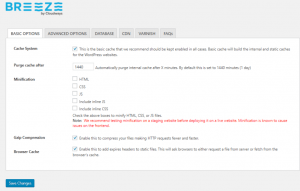 7. WP Super Cache
A Google study found that 53% of mobile site visitors leave a page that takes longer than three seconds to load. With WP Super Cache, you can have more control over the caching of your website.
This WordPress caching plugin serves the majority of your visitors, including those who aren't logged in, haven't left a blog comment, and haven't viewed a password-protected post. Your known visitors will be served a custom cached files tailored to their visit.
Moreover, if you're not comfortable with editing PHP files, you can use the plugin's simple mode to setup your caching. If you have additional questions, you can contact the friendly support team.
Improve Your Site Performance with WordPress Caching Plugins
Take advantage of caching plugins for WordPress to speed up your website. By doing so, you'll enhance the visitor experience and maintain people's attention longer.
Thanks for Reading.
Typical Hosting