How to Setup FileZilla

What is FileZilla
FileZilla Client is a fast and reliable cross-platform FTP, FTPS and SFTP client with lots of useful features and an intuitive graphical user interface.
Setting up FileZilla
Setting up FileZilla is a very simple process and I will show you how to connect your FileZilla to your Remote Hosting Account.
To Start we will need to access your cPanel and head into
Log in to your account through our site login.
Go to your 'Accounts' home page
Under 'Account Overview', Click 'view' next to the number of products and services.
Inside the "My Products & Services" list, Find your service and hit "View Details" located to the right
Within Your Service, you will our "Login to cPanel" on the left sidebar Menu "As Shown in the Image Below"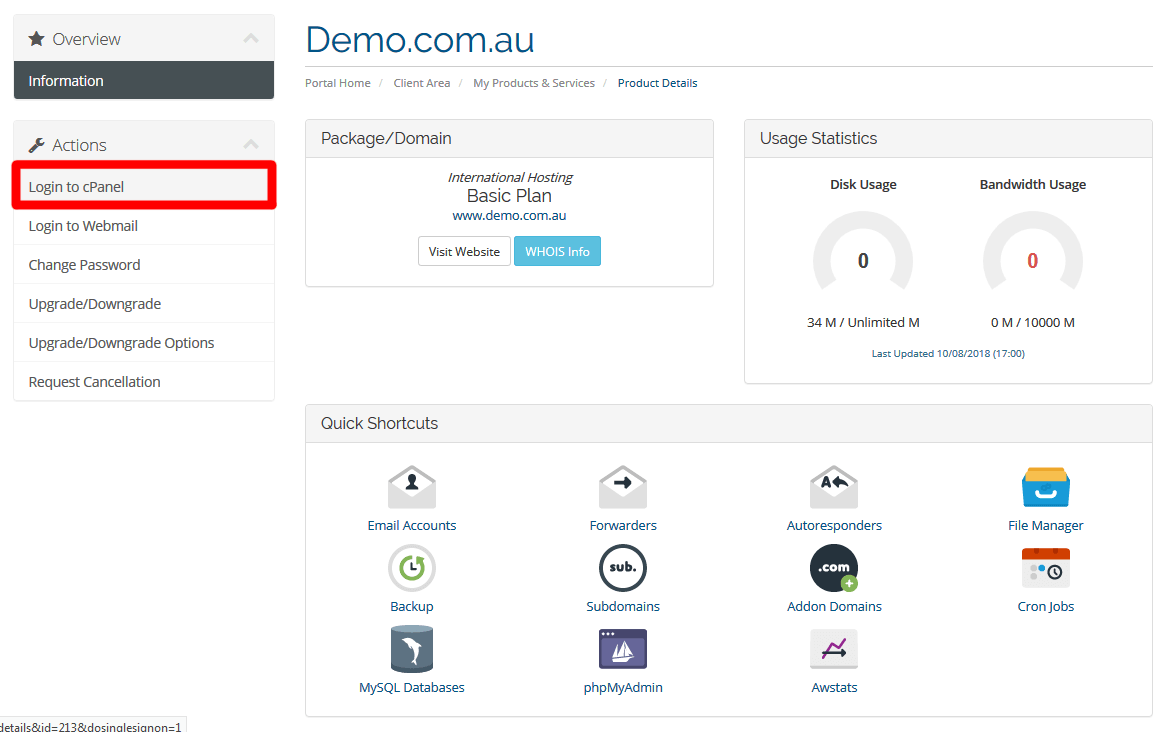 Now that we have successfully entered cPanel we need to navigate to "FTP Accounts" this is usually found in the first Section of cPanel under "Files" as shown below.
If you cannot find it then simply just type FTP Accounts into the Search bar at the top of your cPanel Account.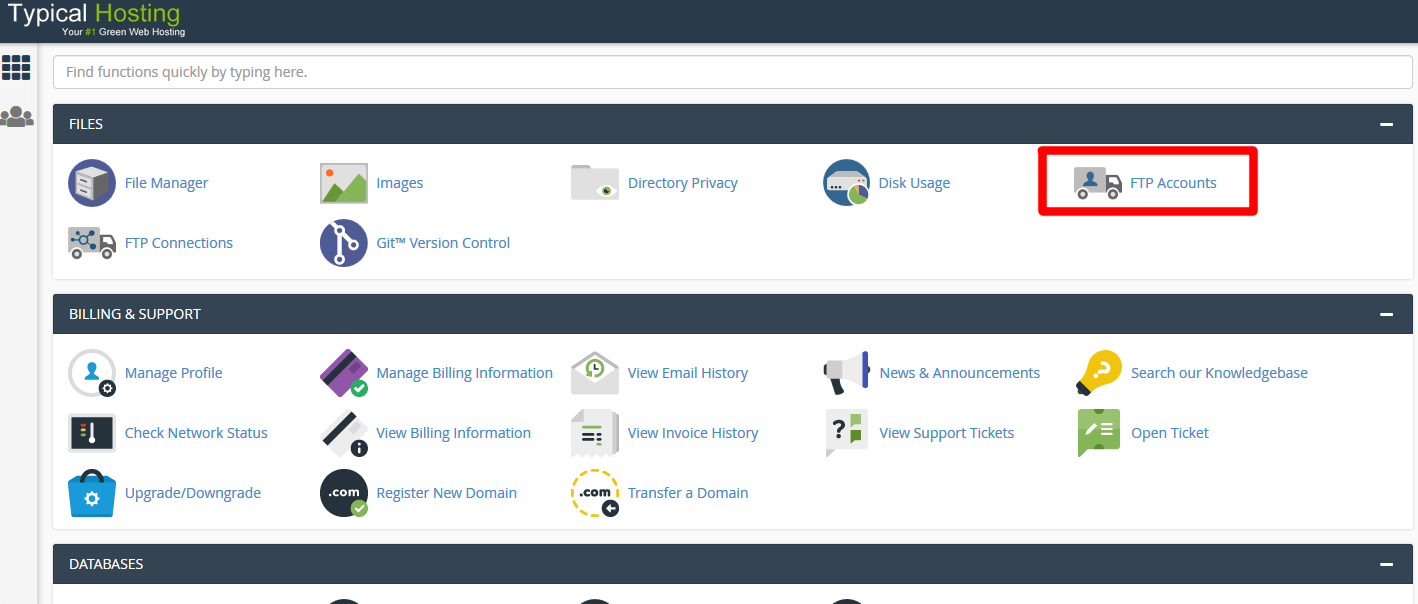 Setting up your FTP Account
At the "Add FTP Account" Area we will need to create a login domain.
This will simply be used as our username to access our Hosting account Remotely. for this one, I will just use "Test@demo.com.au" As for your Password you can either create your own or use the Password Generator Button to Right.
If you use the Password Generator then please make sure you have copied your password to a safe place as we will need to use this password shortly when we are setting up FileZilla.
Now, this part is Very Important!! by default it will come up with something like this "/home/democoma/public_html/demo.com.au/test" now if we are to create this FTP Account under this Directory we will only be able to connect to that directory and won't be able to see your website files.
So for this, we will delete "public_html/demo.com.au/test" leaving it with just the mandatory "/home/democoma/" keeping in mind yours will be stating different depending on the domain of your website.
As for your bandwidth leave this as unlimited as we are going to want to use this account to make a lot of changes to our site or upload files when necessary.
Now that we have filled out our FTP Account Details you should see something Similar as the Photo Below.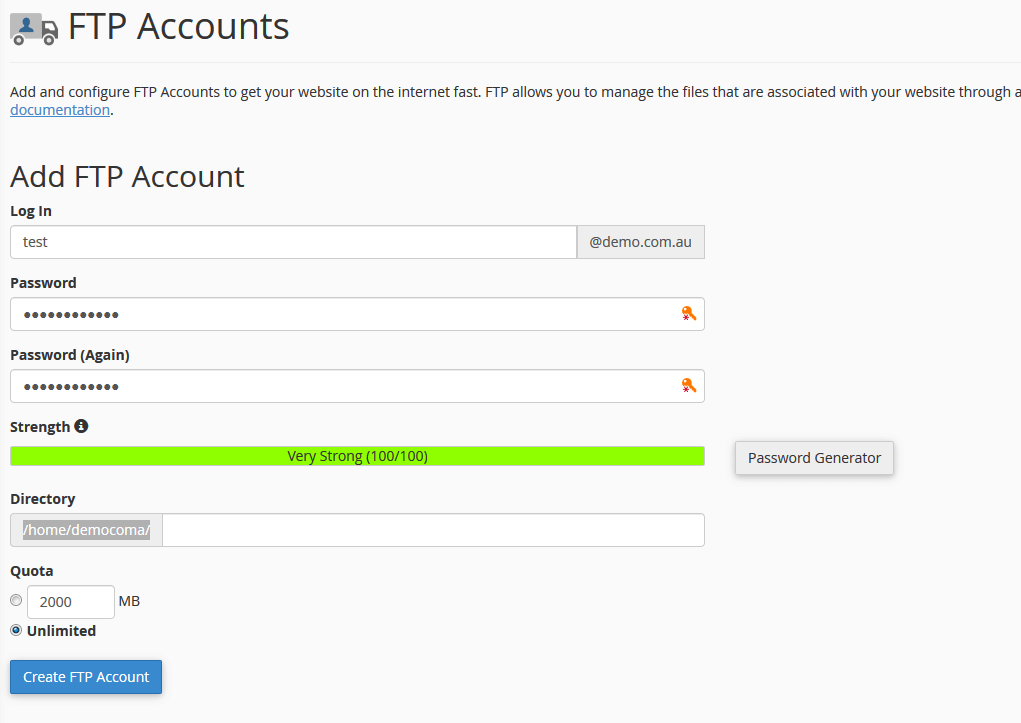 If you are happy with the details and everything looks correct you can now hit "Create FTP Account"
We have now Successfully Setup our new FTP Account you should now see your new login for your FTP Account as shown below.

Configuring Your FTP Client (FileZilla)
To Configure your FTP Client we will simply hit the "Configure FTP Client" button within your new "FTP Account" and simply hit the Download button Below "FileZilla (For Windows)" as shown below.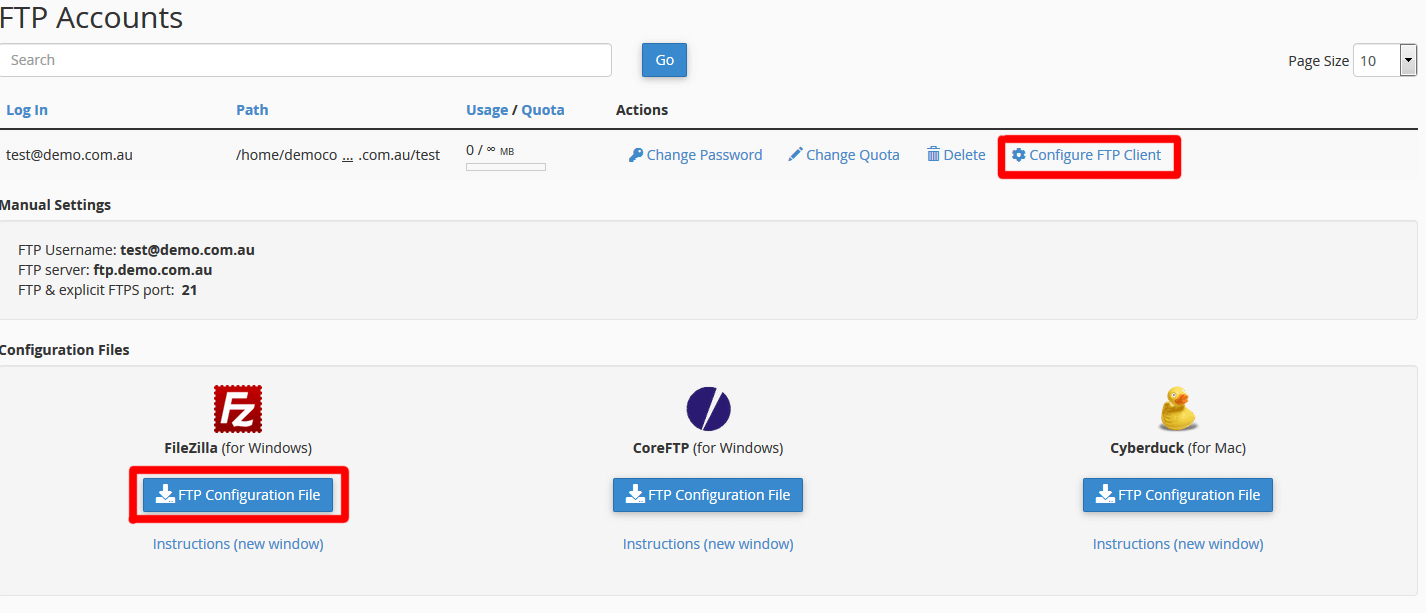 Once you have Downloaded this Configuration File we will now proceed to the FileZilla Program.
If you have not downloaded FileZilla Please do so now by going to this link https://filezilla-project.org/index.php
Setting Up FileZilla Program
Now please open your FileZilla Program and install any new updates if required before continuing.
Now to setup your Remote Connection to your Hosting Service please go to "File->Import" and navigate to the Configuration File we just downloaded from cPanel and Click "Open"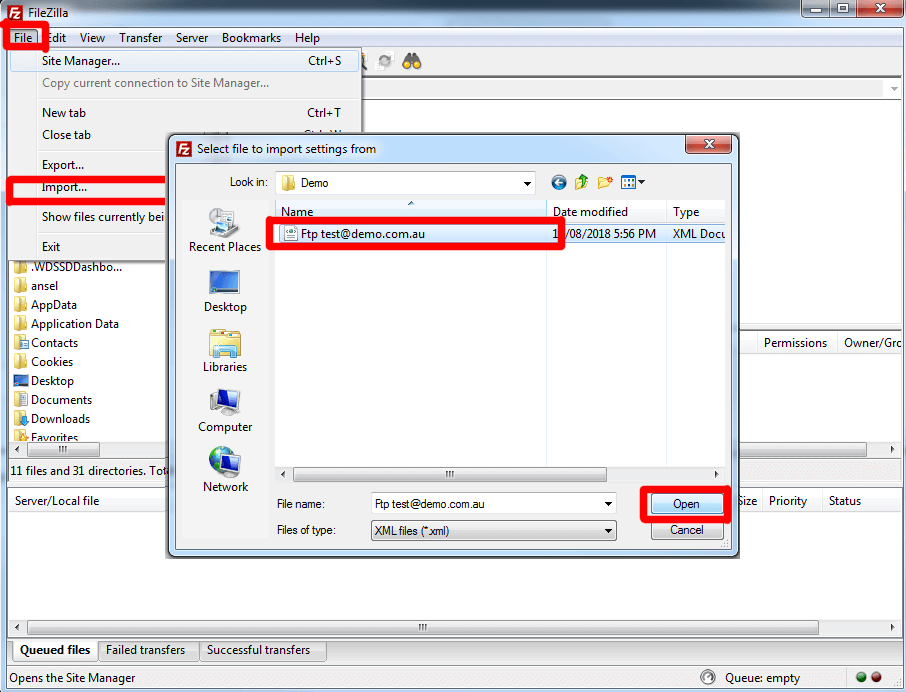 Then we need to make sure that "Site Manager entries" are Checked and then we  Hit "OK"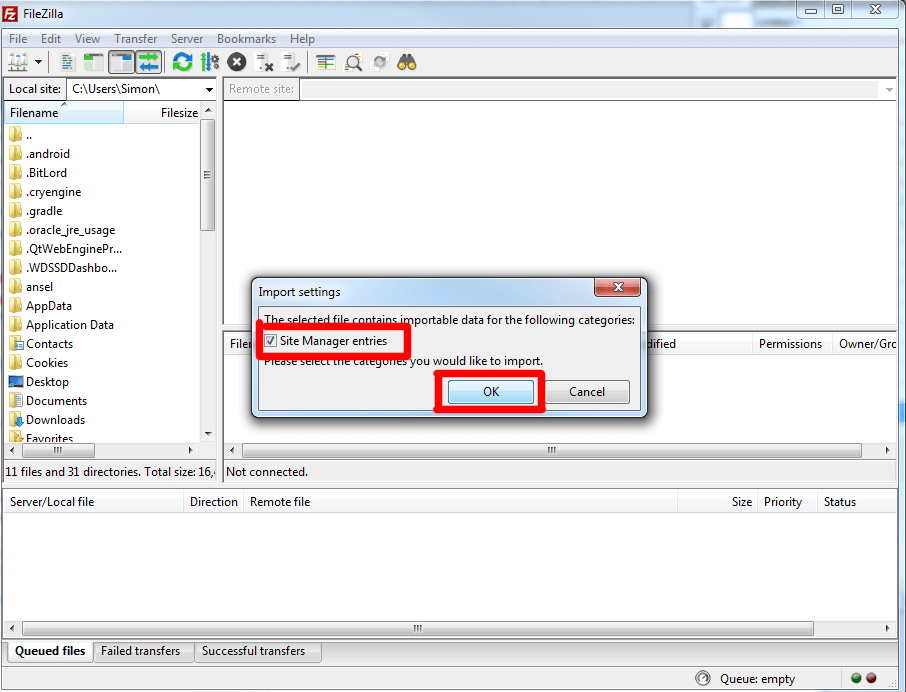 Now you have successfully imported all required Data required to enter your website but before we connect to our FTP Server we will need to Navigate to "File->Site Manager…" in this window that pops up you will see your newly imported Site in the hierarchy menu on the left.
Within your new added site you will see the "Protocol","Host" and"Encryption" Please leave these Fields as they are filled out… what we want to change is the "Logon Type" we will want to change this to "Normal" so we can enter the Password we created earlier and be able to connect easily in the future. This will allow FileZilla to save the password to the program. so when we connect we won't need to enter the password all the time.
If you are on a shared Computer the option is Completely up to you on whether you want to save your password or not but for now we will go with saving the password.
Now please "Enter" the Password you created earlier when we Created your new FTP Account and Click "Connect"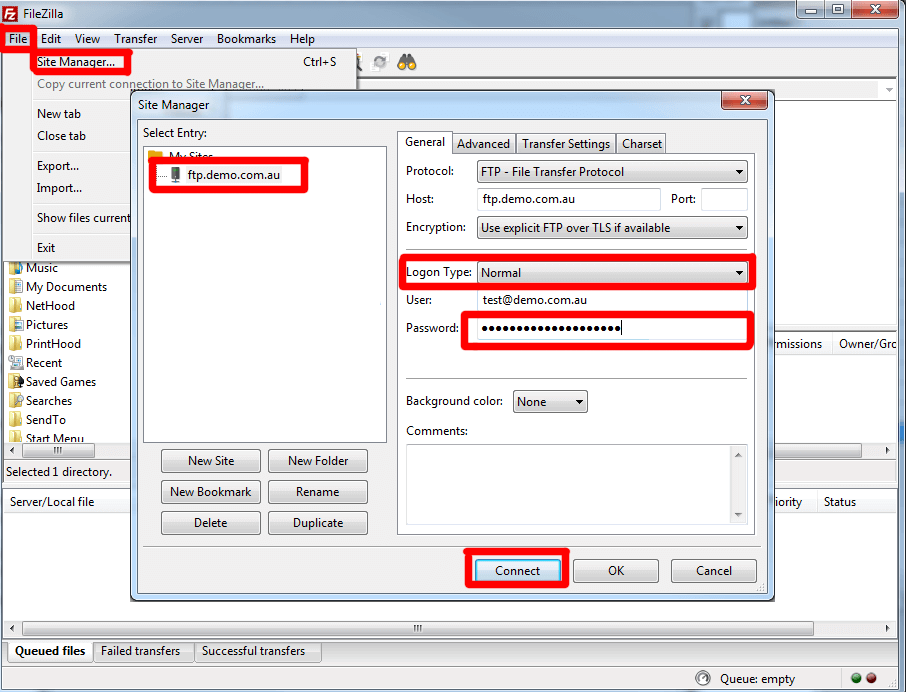 We have now successfully Connected to our Hosting Service Remotely via FileZilla!!
Now you Should be able to control your website files and make changes or edits to your files and folders remotely.
If you have any difficulties connecting to your FTP Server we are more than happy to check everything out for you please just open a "Support Ticket" and we will do our best to help you solve any issues that may arise..
I would also recommend you check our most "Top Freeware Programs for Web Design/Development" post as some tools as Notepad++ can be very useful when editing any code files and more…
I hope you enjoyed this post and have learnt something new. Please feel free to leave us comments or suggestions below.
Thanks
Simon M.
Typical Hosting.