6 FAQs About Shared Hosting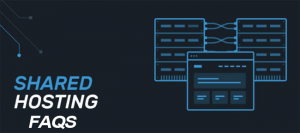 The most commonly used form of hosting is shared hosting and it is mostly used by beginners who are just wanting to get their website started quickly and easily. A majority of all website owners at one stage of their sites career have used shared hosting.
Below we are going to give you an insight into the most commonly asked questions regarding shared hosting;
1. What is shared hosting?
Basically, shared hosting means that there will be multiple sites using the resources of a singular server. Generally, you'll be allocated a certain amount of server resources  that your site will be able to utilize.
Shared hosting plans often offer the best affordability when it comes to choosing a plan.
When you sign up to a shared web hosting plan, you'll gain access to an amount of resources such as how much storage, bandwidth etc., that you'll be able to use. Different hosting companies offer a variety of packages to suit your particular requirements pending on what you need. You will most likely have access to a control panel, which is where all of your website management takes place.
Shared hosting is very user friendly and perfect for complete beginners, small websites and new blogs. All the complex technical stuff is done by the hosting company, such as server maintenance and any other necessary tasks. The only thing you have to manage is your website.
Pros Of Shared Hosting
Low Maintenance
Easy To Upgrade
Affordability
Basic Web Hosting Needs
365 Day Support
Cons Of Shared Hosting
Shared Servers With Other Websites
Limitations On Traffic & Resources
2. How does shared hosting work?
A number of websites share the same software and hardware resources of a singular server. A shared server usually has scripts, which allows you to automatically install content management systems such as WordPress, Drupal, Joomla and receive automatic updates.
Picture this, You have a campsite and each individual tent is a separate website, but they are all using the same campsites resources in unison, like electricity and water, that is how a shared host operates.
3. How does shared hosting differ from dedicated and VPS hosting?
Dedicated hosting is where you have an entire server all to yourself, with shared hosting, you are sharing a singular server with many other websites.
VPS hosting shares similarities with shared hosting. VPS hosting utilizes a singular server, but that single server is then sectioned out into multiple virtual server environments. These server environments act closely in line to a dedicated hosting environment.
4. Benefits of using a shared hosting environment?
As shared hosting is more suited towards a beginner level, the setup process is very basic and the host takes care of anything more intensive that is required.
Benefits of shared hosting:
Affordability –  cheapest form of hosting available;
Easy to change –  easily upgraded to higher packages if necessary;
No technical skills required;
Built-in cPanel (Control Panel) –  site management is beginner friendly.
5. Negatives of using shared hosting?
Shared hosting isn't a one size fits all here are some of the negatives of shared hosting.
Cons of shared hosting:
Loading speed can be much slower than a dedicated server environment;
A chance that your website performance may be affected by other sites sharing the same server;
Potential performance lag when traffic increases to your site;
Lack of server customization for improved performance.
6. What user would benefit most from a shared hosting plan?
Shared hosting is mostly marketed to beginners or small website owners.  If you are going to build your first website and aren't very technical minded, then shared hosting is your best option.
We hope that this post has been insightful and helped you gain some knowledge on shared hosting .
Thank you for reading,
Simon M.
Typical Hosting.
Still have questions about shared hosting? Learn more about Typical Hosting's shared hosting plans here.